By Peter Tremblay
Smoque Shack and the Ottawa Book Expo are coming together to deliver a real Canadian feast alongside an array of literary treasures this 2020. The Expo and the Great Canadian Barbecue will be operating for a total of four days and are encouraging grassroots-oriented authors to step up and be a part of the local celebration.
There are various book fairs across Canada at any time of the year. However, it is quite rare that you find an expo that celebrates local talent exclusively, much less grandly. The Ottawa Book Expo is coming back in 2020, and it's bringing along the Great Canadian Barbecue to celebrate Canadian roots and the literary culture in Canada.
If you're an aspiring Canadian author, then you're well aware of the struggle to gain an audience for your work. The Ottawa Book Expo celebrates the local pool of literary genius that has gone unnoticed.
It is the perfect opportunity to mingle with potential readers, agents, and publishing companies. It's no secret that very few authors get the chance to face success despite multiple attempts to introduce their work.
The lack of publicity and common ties in the literary industry is one of the main reasons why your book might not be succeeding. Mingling with potential readers and fellow authors will expose you and allow you to sell your book upfront—something you can't do when they're being sold at a bookstore.
Join independent literary businesses in the fight to keep the literary culture in local Canada alive. It can be very disheartening to see local work ignored while mainstream authors are celebrated regularly.
The fact is, exposure is the only thing you can count on to help you make it big in the literary world. Unless you've managed to gain a loyal following, you are most likely not going to be successful in your writing career.
If publicity isn't your problem, it is still a good idea to talk to like-minded folk who can help you further your goals in the literary industry. There is nothing better than sharing your experience and learning new things about the trade.
It is often forgotten that the literary world is dynamic and continuously changing. Unless you find yourself updated on new trends and publishing styles, you will be left behind, and that is something that will only prove to hinder your goals.
The Ottawa Book Expo is the ultimate event of the year that will allow you to put yourself first. Disconnect from reality and the constant barrage of technological information in the modern world by spending at least one day surrounded by books and comfort food.
The Great Canadian Barbecue offers an early bird rate of $85 per day. This includes at least one serving of each delicious Canadian favourite served by Smoque Shack.
Sample the various tapas-style dishes offered by Smoque Shack alongside all-time barbecue favourites like pulled pork sliders, jerk chicken egg rolls, brisket served on a crustini with horseradish mayonnaise and two bones of pork ribs.
In addition to the various barbecue favourites, Smoque Shack is offering one meal serving each of Smoque Shack's signature Smoqued favourites: Andouille sausage corn dogs and skewered shrimp.
In case your mouth isn't watering yet, you should consider the sides Smoque Shack is bringing to the Expo. You will see plates of cornbread with Jalapeno infused cheddar butter, mini mac and cheeses and various surprise feature dishes.
The Expo and the Great Canadian Barbecue will be spread out over four days of literary and culinary celebration. Food and books will be available for tasting and perusing from 11 AM to 5 PM on June 7, 2020, and July 24-26, 2020.
Once a ticket for the Great Canadian Barbecue is purchased, foodies and readers alike will be able to mingle alongside each other and enjoy a day full of literary and culinary wonder.
If you are an author who is hoping to become successful and make a living out of writing books one day, the Ottawa Book Expo is the perfect place to get a head start. Head on over to the Ottawa Book Expo website and inquire regarding author collaborator slots before they fill up. Hurry, this is the literary and culinary chance of a lifetime.
Ottawa Book Expo: Ottawa's Great Canadian Barbeque welcomes Amazonas Restaurant
The Ottawa Book Expo is preparing to host the Great Canadian Barbecue alongside Amazonas restaurant in a fun-filled literary festival taking place in June and July 2020,bringing you the perfect combination of Canadian cooking and literary culturethis year.
The book expo would be geared towards celebrating both local and international talent, and unlike other book expos before it, there would be lots of food involved. Many book expos aim at promoting already established authors, thereby ignoring new talents who have little or no prior exposure, however, the Ottawa Book Expo celebrates the local pool of literary genius that has previously gone unnoticed. This way, new authors do not have to struggle so much to gain an audience, for their work.
Asides writers, the Ottawa Book Expo 2020 also plans to bring together entrepreneurs who seek to market and sell innovative products and services. The expo intends to share food to all participants while teaching them how to effectively navigate the publishing and business industry.
The Great Canadian Barbecue™ which would be present at the event would be bringing along with it its 30+ years of experience in the catering business. Their menu is created to incorporate locally reared meat and fresh in-season produce. At the event, they would offer a wide array of tapas-style barbecue options in addition to the variety of other Canadian food being served.Every ticket holder will get a serving of each dish and additional meal servings may be claimed.
Amazonas restaurant which serves amazing Peruvian cuisine with a touch of homemade and gourmet mixed on each plate would also be a part of the great Canadian barbecue. The expo would hold on June 7th and July 24th-26th at the beautiful Horticultural building in Lansdowne Park.
Tickets are available now at OttawaBookExpo.ca, with an early bird rate ofjust $89.00 per day. This ticket guaranteesthat participants do not only eat as much as they can but that they are able to have a taste of all the different food served each day and to enjoy the entire expo at no additional cost.
The Great Canadian Barbecue™ will be serving food from 11:00 AM until 5 PM on June 7, 2020, and July 24-26, 2020.There would be sufficient food and fun for everyone, notwithstanding which day you choose to attend the festival.
The menu would contain several Canadian favourites. You'll be served some delicious pulled pork sliders, which are a classic barbecue staple.Apart from barbecued foods;you'll also get a chance to enjoy other finger foods like jerk chicken egg rolls.There will benumerous side options like mini mac and cheeses. You could snack on these fun meals while going down the line of booths showcasing different books.
The Ottawa Book Expo is exceptional in discovering and celebrating local and international talent.Support local grassroots-oriented authors, publishers and literary vendors by buying a ticket and exploring the vast pool of literary talent Canada has to offer.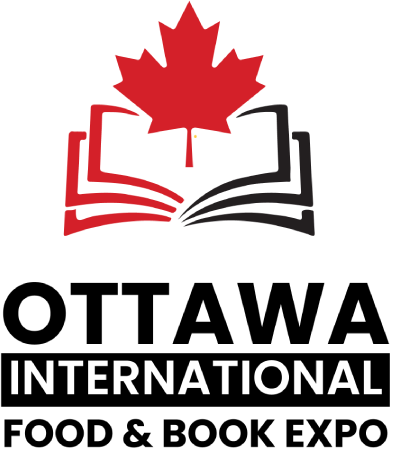 ---